Key Points
If a dog is spayed before the first heat cycle there is about a 0.5% chance that this pet will develop mammary cancer
The larger the breast tumor the greater the risk that it has spread to the lymph nodes, lungs, or other parts of the body
When a breast tumor has been found, there is a 50% chance that it is malignant and a 50% chance that it is benign
Of the malignant breast tumors, 50% have already spread at the time of diagnosis
Anatomy
Dogs have 5 mammary glands on each side (total of 10 breasts)
Cats have 4 mammary glands on each side (total of 8 breasts)
The lymph nodes in the groin and arm pits drain the mammary glands
Risk Factors for breast or mammary cancer in dogs
If a dog is spayed before the first heat cycle there is about a 0% chance that this pet will develop mammary cancer
The risk of developing mammary tumors increases with each successive heat that a dog

one heat cycle = 0.5%
two heat cycles = 8%
three heat cycles = 26%

Spaying a dog after 2 years of age will not decrease the risk for developing mammary cancer
The larger the breast tumor the greater the risk that it has spread to the lymph nodes, lungs, or other parts of the body
When a breast tumor has been found, there is a 50% chance that it is malignant and a 50% chance that it is benign
Of the malignant breast tumors found 50% have already spread at the time of diagnosis
If your pet has multiple mammary tumors, some may be malignant and some may be benign
Size matters: if the tumor is less than 3 cm in size the recurrence rate is relatively low, versus greater than 3 cm has a fairly high recurrence rate
If the biopsy report indicates that the breast tumor has spread to the lymph nodes, lymphatic channels, or blood vessels the prognosis is poor
If the biopsy report indicates that the tumor is surrounded by cells called lymphocytes, a better prognosis is expected
If chest radiographs (x-rays) indicate that there is signs of metastasis (spread of cancer) to the lungs, long-term survival is not expected
Diagnostic tests prior to surgery
Compete blood cell count
Chemistry profile and urinalysis to evaluate function of the internal organs
Chest x-rays to rule out evidence of spread to the chest
Abdominal ultrasound
Fine needle biopsy of enlarge lymph nodes and mammary masses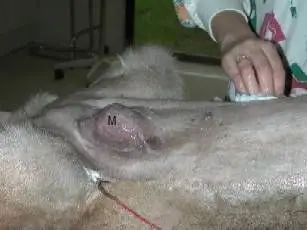 Surgery
If a single gland is affected, then only that gland is removed
If multiple glands on one side are affected, then the entire 5 glands on that side are removed
If multiple glands have tumors on both sides then both mammary chains are removed (all 10 glands are removed)
If the lymph nodes are within the resection zone, then they also are removed (and especially if they are enlarged)
If the groin region is difficult to suture closed, a flap of skin from the flank may be needed to reconstruct the area
The photo right shows a large mass (labeled M) in the mammary gland
Chemotherapy
If the tumor is malignant or shows evidence of invasion into the lymph system or blood vessels, chemotherapy likely will be recommended.
Tamoxifen usually does not have a good effect if the dogs has a malignant mammary tumor, as these usually have very low numbers of estrogen receptors. Side effects of this medication can include pyometra, vulvar enlargement, vulvar discharge, urinary tract infection, incontinence, low white blood count, death. Tamoxifen, in general, is not a good treatment for mammary tumors in dogs.
Mammary tumors in cats
Spaying female cats before the first heat has a significant sparing effect on the development of mammary cancer.
Mammary tumors in male cats
About 80 to 90% of the mammary tumors are highly malignant in female cats
Size matters: tumors less than 2 cm in size have a better prognosis than tumors greater than 3 cm in size
Radical removal of both mammary chains should be performed if a large or multiple masses are present
If only a single pea sized mass is present, lumpectomy (or mammectomy) is acceptable instead of radical surgery
Chemotherapy should be considered to help control metastatic disease
Potential complications
Anesthetic death – rare
Infection – rare
Break-down of the incision, which may require resuturing of the wound or leaving it to heal on its own
Spread of cancer to other regions of the body (lymph nodes, lungs, bones)
Recurrence of cancer
References
Overley B, Shofer FS, Godschmidt MH, et al. Association between ovarihysterectomy and feline mammary carcinoma. J Vet Intern Med 19:560-563; 2005.
Skorupski KA, Overley B, Shofer FS, et al. Clinical characteristics of mammary carcinoma in male cats. J Vet Intern Med 19:52-55;2005.
Sorenmo KU, Shofer FS, Goldschmidt MH. Effect on spaying and timing of spaying on survival of dogs with mammary carcinoma. J Vet Intern Med 14:266-270; 2000.
Mauldin GN, Matus RE, Patnaik AK, et al. Efficacy and toxicity of doxorubicin and cyclophosphamide used in the treatment of selected malignant tumors in 23 cats. J Vet Intern Med 2:60-65; 1988.
Nieto A, Pena L, Perx-Alenxa MD et al. Immunohistologic detection of estrogen receptor alpha in canine mammary tumors clinical and pathologic associations and prognostic significance. Vet Pathol 37:239-247; 2000.
Poirier VJ, Hershey AE, Burgess KE, et al. Efficacy and toxicity of paclitaxel Taxol for the treatment of canine malignant tumors. J Vet Intern Med 18:219-222;2004.
Perez-Alenza MD, Tabanera E, Pena L. Inflamatory mamary carcinoma in dogs 33 cases. J Am Vet Med Assoc 219:1110-1114; 2001.
Saba CF, Rogers KS, Newman SJ, et al. Mammary gland tumors in male dogs. J Vet Intern Med 21:1056-1059; 2007.
Stratmann N, Failing K, Richeter A, et al. Mammary Tumor recurrence in bitches after regional mastectomy. Vet Surgery 37:82-86, 2008.
Simon D, Schoenrock D, Baumgaertner W, et al. Postoperative adjuvant treatment of invasive malignant mammmary gland tumors in dogs with doxorubicin and docetaxel. J Vet Intern Med 20:1184-1190; 2006.
Chang SC, Chang CC, Chang TJ, et al. Prognostic factors associated with survival two years after surgery in dogs with malignant mammary tumors 79 cases. J Am Vet Med Assoc 227:1625-1629;2005.
Perez Alenza D, Rutteman GR, Pena L, et al. Relationship betwen habitual diet and canine mammary tumors in a case-control study. J Vet Intern Med 12:132-139; 1998.
Novosad CA, Bergman PJ, O'brien MG, et al. Retrospective evaluation of adjunctive doxorubicin for teh treatment of feline mammary gland adenocarcinoma 67 cases. 42:110-120; 2006.